The Lay Committee: A patient's perspective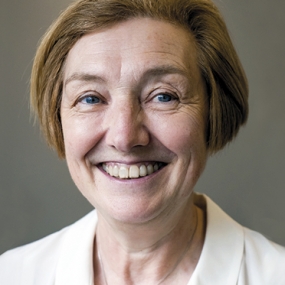 Pauline Elliott
Pauline Elliott, Chair of the Royal College of Anaesthetists Lay Committee.
'Hey Pauline! Good to see you!'
'Great to see you too Joe!'
I was catching up with my oldest friend again. This time over a coffee and under an umbrella in an autumnal corner of a café garden. After a lifetime without having to go into hospital, Joe has been advised that he would benefit from knee surgery following a cycling injury.
'Last time we talked you'd just taken over as Chair of the RCoA Lay Committee. How's that going?' asked Joe.
'Good thanks.' I replied. 'There's lots to do and I'm enjoying it. Healthcare professionals are really demonstrating the need for people to be at the heart of everything they do. Our committee members are very keen to do all we can to support our clinical colleagues with this. We're making sure the public's voice is heard and listened to everywhere in the College.'
'That's really important, Pauline. I've read about the NICE guidance on shared decision making. I need to go through it carefully before I meet my anaesthetist and surgeon in outpatients. I want to understand how I can be fully involved in decisions about my care and treatment.'
I was really pleased to hear that Joe was so keen to take the initiative on preparation for his operation. But I wondered if he was also thinking about the difficult realities of long waiting lists for non-urgent procedures. We've known each other a long time, so I decided to try and talk openly about it.
'Joe…' I started. Joe detected the hesitancy in my voice.
'Spit it out, Pauline! What is it you want to say?' he said with an encouraging, but slightly wary smile.
'Do you realise it's likely to be quite a long time before you actually get your operation?'
'Yep. I know that.' Joe replied. 'When you find out you need surgery the long-term impact of coronavirus on the NHS really hits home.'
There's no point in telling Joe that the intense pressure on waiting lists will not be sorted out in the short term. Even with immense effort from NHS staff it's just not going to be fixed quickly. But I know there are ways Joe can use the time to help himself.
'Do you know about the patient information resources on the College website?' I ask. 'Lay Committee members are closely involved with those. We make sure they're written for ordinary people using the sort of language everyone can understand. And we encourage use of more graphics and videos to help people grasp what's being said.'
'Sounds good. I'll have a look at those.' said Joe. 'Which ones do you recommend?'
This time it was my turn to answer with a smile.
'Of course, I think they're all great! I love the video 'Rees Bear has an anaesthetic,' but that's meant to be for kids! Seriously Joe, have a look at 'You and your anaesthetic' and 'Fitter, Better, Sooner.' I'd say try and think of the time before your operation as preparation time rather than waiting time. There's lots you can do to make sure your surgery and recovery go as smoothly as possible. Pick something to do to help you prepare and I'll do it with you!'
What have I just committed myself to?!
'Another coffee?' I suggest, wondering if the café does low calorie cake.
If you are interested in joining the Lay Committee. Have a look at the vacancies available.
Pauline Elliott