The Royal College of Anaesthetists is the professional body responsible for the specialty throughout the UK
We are the third largest medical royal college in the UK by membership. With a combined membership of more than 24,000 Fellows and Members, we ensure the quality of patient care by safeguarding standards in the three specialties of anaesthesia, intensive care and pain medicine.
Working with our combined membership of more than 24,000 Fellows and Members, we remain committed to championing the diverse and critical work of anaesthetists, and the science that underpins our work.
Our key areas of work include:
recruiting, training and examining anaesthetists to the most exacting standards
supporting our fellows and members throughout their careers, irrelevant of age and location
setting high standards of clinical care to ensure the constant improvement of patient care and safety
working collaboratively, through the National Institute of Academic Anaesthesia's Health Services Research Centre to advance, fund and promote research activity
acting as the voice of the specialty on behalf of our membership while promoting the sharing of knowledge and best practice
working closely with government on crucial policies and with key stakeholders across the UK and overseas to ensure that anaesthesia and anaesthetists continue to play a central role in shaping and delivering the healthcare agenda.
The College is the home of the Faculty of Pain Medicine.
The College is proud to be one of the eight parent Colleges of the Faculty of Intensive Care Medicine.
What we do
With our fellows', members' and patients' interests integral to our work, our Strategic Plan 2022–2027 reflects our vision for the future of our College and our specialty. This strategy also defines the values that provide a solid, coherent and focused foundation upon which to build our shared future.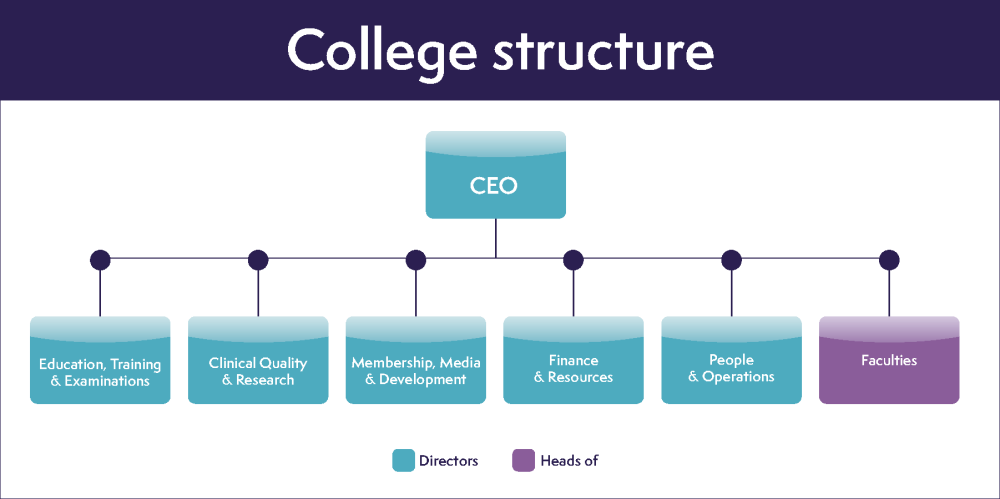 Directorates
Jono Brüün, Chief Executive
Responsibilities (not exhaustive)
Budget setting, Council, devolved nations, elections, faculties, fundraising, governance, operational plans, Executive Team, strategy, information technology.
Russell Ampofo, Director of Education, Training and Examinations
Responsibilities (not exhaustive)
Careers (including student, FY, AAs and SAS doctors), curricular, College tutors, CPD, equivalence, examinations, recruitment, revalidation, trainee e-Portfolio, training, global partnerships, regional advisors in anaesthesia, workforce and census.
Sharon Drake, Deputy Chief Executive Officer and Director of Clinical Quality and Research
Responsibilities (not exhaustive)
Academic, AACs, accreditation, clinical audit, clinical quality, clinical standards, Clinical Trials Network, consultations, health policy, HSRC, invited reviews, Lay Committee, NIAA, patient information, patient safety, perioperative medicine, policy and public affairs research, quality improvement, sustainability.
Mark Blaney, Director of Finance and Resources
Responsibilities (not exhaustive)
Audit, budget and budget setting, contracts, finance, risk register, trading company.
Graham Blair, Director of Membership, Media and Development
Responsibilities (not exhaustive)
Archives, catering, communications, digital communications, digital resources, e-Learning, education, events and courses, internal communications, journals, media, membership experience and engagement, podcasts, publications (inc The Bulletin), venue hire.
Judith Tidnam, Director of People and Operations
Responsibilities (not exhaustive)
Recruitment, staff training, pay and reward, ways of working, employment policy and compliance, organisation development, facilities and estates management, equality, diversity & inclusion, health and wellbeing, reception, workplace and estates sustainability.
Sixteen per cent of all hospital consultants are anaesthetists and over two-thirds of hospital in-patients will see an anaesthetist