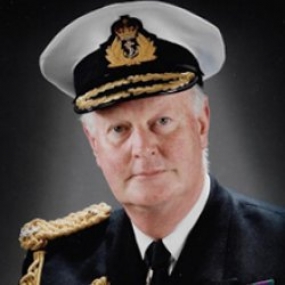 Dr Anthony Leslie Revell CB MD(Hons) FFARCS
26/04/1935 to 30/12/2018
Place of birth: Wimbledon, London
Nationality: British
CRN: 515409
Also known as: Tony
Education and qualifications
| | |
| --- | --- |
| General education | King's College School, Wimbledon; Eastbourne Grammar School; University of Birmingham Medical School |
| Primary medical qualification(s) | MBChB, Birmingham, 1959 |
| Initial Fellowship and type | FFARCS by Examination |
| Year of Fellowship | 1969 |
| Other qualification(s) | MD(Hons), Birmingham, 1996 |
Professional life and career
Postgraduate career
Averse to the cadet corps at school, Revell did not intend to join the services, but after house appointments (details unknown) he was called up because of acute shortages after national service had finished. Wanting to travel he joined the Navy, spending 18 months tours as ship's doctor, first on HMS Troubridge (in the West Indies) and then HMS Dampier (in the Far East). Finding that he liked the Navy he decided to stay and specialise in anaesthesia. He trained at The Royal Hospital Haslar, (Gosport) & The Radcliffe Infirmary, Oxford before being promoted Commander and appointed consultant at the Australia, New Zealand & UK Hospital, Singapore in 1972. He returned to Haslar after three years, serving there as a consultant until 1983. Promoted Surg Captain he was sequentially Director of Medical Personnel (Navy), Medical Officer in charge at Haslar and Fleet Medical Officer. At 'flag' rank he was (1990-2) Surg Commodore & Director of Clinical Services in the Defence Medical Services Department, (1993-4) Surg Rear-Admiral & Medical Director General (Navy) and (1995-7) Surg Vice-Admiral & Surgeon-General to the Armed Forces after which he retired. He is the only anaesthetist to have held this post. Politics of the day meant that he received a CB, not the knighthood normally due to 'three-star' officers.
Professional interests and activities
His time on HMS Troubridge was notable for its media connections: he acted as liaison officer for the BBC radio series 'The Navy Lark', supplying stories back to London; and the crew were 'extras' for the Bond film 'Dr No', Revell supplying the white belt worn by Ursula Andress as she walked from the sea! Conversely, on HMS Dampier he was involved in treating wounded Marines in the Borneo confrontation, disobeying orders to go ashore to treat civilians. During his time at Haslar he wrote a history of the Hospital. As Surgeon-General he had to deal with two major issues. First, the consequences for military hospitals of Government cutbacks, managing to preserve Haslar for a while, but it too went after he retired. The second problem was briefing the Government on the identification & management of 'Gulf War Syndrome'.
Other biographical information
A cheerful, physically large (tailor-made theatre wear led to him being known as the 'Jolly Green Giant"!) man with a sharp brain, but a very modest personality. In retirement he preferred to be known as 'Dr' not 'Admiral', and devoted himself to choral music, Winchester Cathedral and related organisations.
Author and Sources
Author: Prof Tony Wildsmith
Sources and any other comments: [1] Obituary. The Times, 2nd January, 2019 [2] Obituary. Hampshire Chronicle, 17th January, 2019 [3] The Medical Directory [4] The photograph is courtesy of Alison Rayden who was given it by Admiral Revell when she interviewed him in 2018.