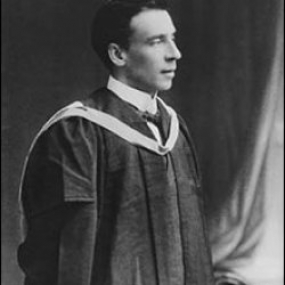 Dr Arthur Mills
25/11/1875 to 07/01/1959
Place of birth: Dundee
Nationality: British
CRN: 715257
Education and qualifications
| | |
| --- | --- |
| General education | Harris Academy, Dundee; University of St Andrews |
| Primary medical qualification(s) | MB ChB (with distinction), St Andrews, 1909 |
| Initial Fellowship and type | FFARCS by Election |
| Year of Fellowship | 1948 |
| Other qualification(s) | MD, St Andrews, 1913; MRCPEd, 1927 |
Professional life and career
Postgraduate career
Mills started his medical career in general practice in Kingskettle near Ladybank in Fife and, like most GPs, would anaesthetise his own patients for surgery (in their homes or the cottage hospitals). However, his interest went beyond such basic involvement, an MD thesis (Chloroform anaesthesia in general practice) being written during this period. From 1st January, 1914 he was Lecturer in Anaesthetics, University of St Andrews and Visiting Anaesthetist, Dundee Royal Infirmary, but was called up to serve in the RAMC in 1916. He returned to his posts after the war, continuing as head of department until he retired in 1944 when he was appointed Consulting Anaesthetist in recognition of his contributions to safer practice. He continued to work as a Dundee GP for some time after this.
Professional interests and activities
The teaching of undergraduates was a major part of his role in St Andrews, and he emphasised the need for the non-specialist to avoid chloroform. He also developed a laryngeal 'tube' for the delivery of inhalational anaesthesia. Active in a number of medical societies, he was a founder member of the Scottish Society of Anaesthetists (1914) and its President in 1925 and 1934. On 21st August 1930 he is believed to have anaesthetised the then Duchess of York (later Queen Elizabeth) in Glamis Castle for the birth of Princess Margaret – the last 'domiciliary' Caesarean Section in Tayside! He was elected DA(RCP&S) in 1935 and FFARCS in 1948, the very first year of each qualification.
Other biographical information
On leaving school Mills followed his father's wishes and became a banker, working in Portugal and Brazil. However, at the age of 28, having saved sufficient funds to pay his own way, he decided to study medicine. In 1909 he married Elizabeth Barclay Paisley (from Newport, Fife) who had also qualified with distinction from St Andrews (in 1908). She worked as a GP in Dundee, and they had four children, three of them doctors. At the last count a total of 15 members of the profession had stemmed from their union! Mills was a keen horseman, a skilled salmon fisherman and a gifted amateur astronomer.
Author and Sources
Author: Prof Tony Wildsmith
Sources and any other comments: McGowan S. Anaesthesia in Dundee (1847-1964). Proc Hist Anaes Soc 2007; 37: 23-35 I thank Dr John Mills (grandson) for reviewing the script and providing additional material. The photograph is courtesy of the Department of Anaesthetics, Ninewells Hospital, Dundee.