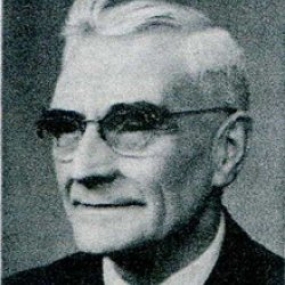 Dr David Keir Fisher
22/03/1894 to 06/12/1985
Place of birth: Glasgow
Nationality: British
CRN: 715359
Education and qualifications
| | |
| --- | --- |
| General education | Schooling not known; Anderson College of Medicine |
| Primary medical qualification(s) | LRCP&SEd LRFPSGlas (the Scottish 'Triple'), 1923 |
| Initial Fellowship and type | FFARCS by Election |
| Year of Fellowship | 1948 |
| Other qualification(s) | LDS, RFPSGlas, 1923 |
Professional life and career
Postgraduate career
Because his parents could not afford to fund his medical training, Fisher worked as a dental technician for 5 years to save enough to become a medical student in 1913. The next year he joined the 4th Royal Scots Fusiliers, serving in Gallipoli & Egypt, and transferring to a field ambulance unit after recovering from wounds. After the war he returned to studies in both medicine and dentistry, qualifying in both disciplines in 1923. He then worked in general practice in Blantyre, returning to Glasgow in 1930 to work as an anaesthetist based at the Dental Hospital. Appointed a consultant (primarily at the Dental Hospital, but also at the Royal Infirmary) on the inception of the NHS in 1948, he retired from GRI in 1959 and the Dental Hospital in 1961.
Professional interests and activities
Fisher was a dental anaesthetist in the traditional style, but hypnotherapy was a major cinical interest and he founded the Scottish branch of the British Society of Medical and Dental Hypnosis.
Other biographical information
Predeceased by his wife, he had a daughter and twin sons. He maintained strong links with the church and remained active into retirement, travelling to the Upper Nile in his 90th year, and contributing considerably to the discussion of a clinical meeting only two weeks before his death.
Author and Sources
Author: Prof Tony Wildsmith
Sources and any other comments: Obituary. BMJ 1986; 1: 275-6 I thank Dr WLM Baird for reviewing the script.