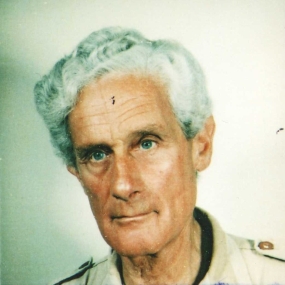 Dr Frank Holmes FFARCS DA
Other family name: Born Franz Hoenigsberger
08/05/1912 – 06/01/2004
Place of birth: Munich, Bavaria
Nationality: British (German until 1947)
CRN: 532039
Education and qualifications
| | |
| --- | --- |
| General education | Classical education in Munich 1924-30, winning an art competition at the age of 18. Attended the Medical Faculty, University of Munich 1930-33 (up to 2nd Professional Examination) – he excelled in tennis, hurdling and skiing. He left Germany in 1933 after Hitler's assumption of dictatorial powers, and came to Edinburgh where he attended the Royal Colleges of Surgeons and Physicians 1933-38. |
| Primary medical qualification(s) | LRCP (Edinburgh), LRCS (Edinburgh), LRCPS (Glasgow) 1938 |
| Initial Fellowship and type | FFARCS by Election |
| Year of Fellowship | 1953 |
| Other qualification(s) | DA (RCP&S) 1941 |
Professional life and career
Postgraduate career
After qualifying Holmes was house physician at Murray Royal Hospital (mental) in Perth, Scotland. From 1939 he was appointed to resident anaesthetist posts in Edinburgh. He was posted to Law Junction E.M.S. Hospital in 1941 and in 1942 he was commissioned in the RAMC. He served as RMO in Kirkwall, Orkney 1943-44, as Major in a specialist maxillo-facial surgical team in France 1944-45, and through 1945-47 in a military hospital in Berlin, where he was acting Lieutenant-Colonel. In Berlin his skills as interpreter were much in demand. On discharge, he joined the Department of Anaesthetics at the Royal Infirmary of Edinburgh, where he was appointed a Consultant in 1948. He worked there until his retirement in 1977.
Professional interests and activities
Holmes believed that in the 1930s most surgical deaths and complications were due to inadequate anaesthesia, preparation, assessment and aftercare. He soon developed his interest in obstetric anaesthesia and analgesia and its effects on the newborn. This led to his two classic papers (1960) on the supine hypotensive syndrome of pregnancy, which was particularly apparent under spinal anaesthesia -confirming the cause of caval compression by the gravid uterus. However, he published on a broad range of topics including electrical anaesthesia, pulmonary complications, the use of hypotensive anaesthesia to produce a bloodless field for surgery of the middle ear, and neonatal resuscitation. He co-authored (with John Gillies) the chapter on Induced Hypotension in volume 2 of Evans & Gray's textbook 'General Anaesthesia' (2nd edition, 1965). He was President of the (then) Association of Anaesthetists of Edinburgh 1962-63, and President of the Scottish Society of Anaesthetists 1974-75.

Other biographical information
Frank Holmes was a private, modest man who stuck to his guiding principles. He married Thora MacLeod in 1943 and they had two sons and a daughter. Sadly Thora died suddenly just before his retirement in 1977. The following year he married Anne Wortly Crosbie and they enjoyed 25 years together, moving to a converted mill in East Lothian. There Frank pursued his hobbies of fishing, shooting and stalking as well as gun dog training, gardening, carpentry and photography. In 1974 he published a book 'Following the Roe.'
Author and sources
Author: Alistair McKenzie
Sources and comments:
[1] Holmes' own completion of 'Boulton form' on Lives of Fellows of Faculty (1988).
[2] Obituary. The Scotsman 9 February 2004. [3] Holmes F. The supine hypotensive syndrome. Its importance to the anaesthetist. Anaesthesia 1960; 15: 298-306.
Image provided by Frank Holmes to Alistair McKenzie in 2001