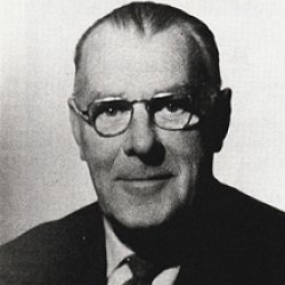 Dr John Halton MBChB FFARCS DA
26/06/1903 (from Baptismal record) to 12/08/1968
Place of birth: Liverpool
Nationality: British
CRN: 715466
Also known as: Jack
Education and qualifications
| | |
| --- | --- |
| General education | School unknown; Liverpool University Medical School |
| Primary medical qualification(s) | MBChB, Liverpool, 1926 |
| Initial Fellowship and type | FFARCS by Election |
| Year of Fellowship | 1948 |
| Other qualification(s) | DA(RCP&S), 1946 |
Professional life and career
Postgraduate career
After house appointments (no details) Halton entered GP in the Liverpool area, but within three years had decided to take up anaesthesia. His talents meant that he progressed rapidly and he was soon appointed honorary anaesthetist to Liverpool's Royal Infirmary and Royal Southern Hospital. In 1930 he started to work with the pioneer thoracic surgeons Morriston Davies and Hugh Reid at the North Wales Sanatorium, their activity leading to the founding of the Liverpool Thoracic Surgical Unit at Clatterbridge Hospital. He aslo worked at the Orthopaedic Centre at Oswestry with Watson Jones. On the outset of WW2 he joined the RAF and was posted to be the MO to Merseyside's balloon barrage, but his surgical colleagues, missing his skills, secured his release for civilian work. During the war he developed an interest in dental anaesthesia and In 1943 was apppointed lecturer in dental anaesthesia by the University of Liverpool. However, the NHS was not to his 'taste' and in 1948 he became senior anaesthetist at Noble's Hospital on the Isle of Man, although until 1963 he spent two days each week in Liverpool fulfilling his dental commitments. He continued to work at Noble's Hospital until just before his death in 1965.
Professional interests and activities
Halton's skills and contributions meant that he was an inspiring teacher, one who embraced new developments such as iv anaesthesia. He made a number of technical developments, notably a bronchial blocking system which did not need bronchoscopy, and worked with Mr Jack Blease to devise many items of equipment including the first portable anaesthetic machine with a circle absorber. All of this would have secured a significant reputation, but in 1943 he precipitated events which were to change not just his life, but the practice of anaesthesia. In 1943, as an RAF Officer, Halton had access to the Mess of the American Bomber Base at Burtonwood and hearing there of Griffith's work with 'Intocostrin' in Montreal he persuaded the Americans to fly some over for him! He tried it first in his thoracic patients and involved Dr (later Prof) Cecil Gray (who provided the academic input) in his studies. They quickly used up the 'Intocostrin', finding it very unpredictable, but remembered experiments with 'curarine' in the Physiology Department, and this proved to be both more available and more predictable. From this beginning a whole new approach to anaesthesia (the 'Liverpool' technique) evolved.
Other biographical information
The son of a distinguished Liverpool GP, Halton was married (to Lilis) and had two daughters. A charming and sociable man he seems, nonetheless, to have been somewhat overwhelmed by the effect which the work on curare had on his life because he was much in demand. The move to the Isle of Man seems to have been as much a retreat from that (to allow him time for his garden) as from the NHS.
Author and sources
Author: Prof Tony Wildsmith
Sources and any other comments: Obituary. BMJ 1968, 31st August, 560 | Gray TC. Exciting and dangerous days. Brit J Anaesth 1983; 55: 227-8 | Dr AA Gilbertson, personal recollections | The original of the photograph is in the collection of Dr David Gray (son of Prof TC Gray). This copy is used 'by kind permission of the Royal Society of Medicine.'