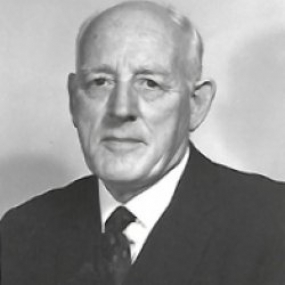 Dr Robert William Cope
20/07/1909 to 29/03/1976
Place of birth: London
Nationality: British
CRN: 715351
Also known as: Bob
Education and qualifications
| | |
| --- | --- |
| General education | School not known; Guy's Hospital Medical School |
| Primary medical qualification(s) | MRCS LRCP, 1935 |
| Initial Fellowship and type | FFARCS by Election |
| Year of Fellowship | 1948 |
| Other qualification(s) | DA(RCP&S), 1937 |
Professional life and career
Postgraduate career
After house officer posts at Guy's he trained in anaesthesia there before being appointed honorary anaesthetist to The Hospital for Sick Children, Great Ormond Street in 1938 and later to the Chelsea Hospital for Women. He joined the RAMC at the outbreak of WW2, serving in a neurosurgical unit with the 8th Army in the western desert from 1941 and working long hours after Alamein. He rose to the rank of Major and acted as adviser in anaesthetics to GHQ, Middle East. He returned to London after the war, dividing his time as an NHS consultant between University College Hospital and Great Ormond Street. He retired in 1974.
Professional interests and activities
Primarily known as a paediatric anaesthetist, Cope pioneered the use of curare in children in 1947, published widely on the subject and had a major role in the formation of the Association of Paediatric Anaesthetists in 1973, serving as its first President (1973-6). He also served the Faculty of Anaesthetists (Board member 1955-1971, final FFARCS examiner 1962-8) and the Section of Anaesthetics RSM (Council member 1949-65, President 1961-2). He contributed to the standardisation of anaesthetic equipment, acting as Chairman of the relevant British Standards Committee for several years. He also published articles on military anaesthesia during WW2 and medico-legal aspects of anaesthesia, notably the definitive account of the 'Woolley & Roe' case relating to paraysis after spinal anaesthesia.
Other biographical information
An extremely kind man known for his help with the personal problems of others. A 'do-it-yourself' handyman and a keen follower of rugby, especially the hospitals' cup.
Author and sources
Author: David Hatch and William Glover
Sources and any other comments: Obituary. Lancet 1976; 1: 1029 | Personal recollections | Medical Directory