Dr Thomas Babington Boulton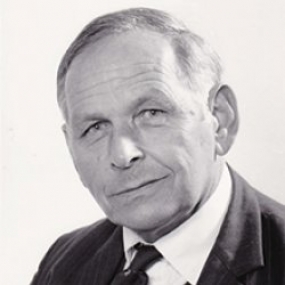 Dr Thomas Babington Boulton OBE TD ERD MA MD FFARCS FDSRCSEng
06/11/1925 to 01/07/2016
Place of birth: Bishop Auckland
Nationality: British
CRN: 494061
Also known as: Tom
Education and qualifications
| | |
| --- | --- |
| General education | Scarborough College followed by St Peter's School, York, where he was 'Senior Scientist' and won the BMA medal; Emmanuel College, Cambridge; St Bartholomew's Hospital, London |
| Primary medical qualification(s) | MBBChir, Cambridge, 1949 |
| Initial Fellowship and type | FFARCS by Examination |
| Year of Fellowship | 1954 |
| Other qualification(s) | BA, Cambridge, 1946 (MA, 1950); DA(RCP&S), 1953; MD, Cambridge, 1989 |
Professional life and career
Postgraduate career
After serving as a surgical house officer at Bart's, Tom was appointed junior resident anaesthetist there, before being called up for National Service in 1950, and serving in Malaya during the Communist insurgency. Returning to Bart's in 1952, he went to Ann Arbor, Michigan on a Fulbright Scholarship in 1956, returned to work with Alfred Lee in Southend in 1957 before being appointed as a consultant in Reading in 1958.
He was invited back to Bart's in 1961, primarily for his expertise in cardiac anaesthesia, but also to develop resuscitation, intensive care and dental anaesthesia services. Seeking more time for other interests he returned to the Royal Berkshire Hospital in Reading as senior consultant in 1973, this continuing as his base hospital until retirement in 1990. In addition spent one day a week with the Nuffield Department in Oxford where he was a clinical lecturer, this appointment providing him with an Oxford MA in addition to his original from Cambridge. The Oxford link also led to the opportunity for a six months (July-December, 1989) exchange appointment with a consultant at the Royal Melbourne Hospital in Australia and offering opportunities for new clinical experiences and teaching commitments.
Professional interests and activities
Tom's experiences in Malaya sparked interests in both the military (he remained in the TA, rising to the rank of Major and awarded both TD & ERD) and the provision of anaesthesia in 'difficult' conditions, his work in Oxford involving the development of 'draw-over' and other equipment. Educating others, both on courses and in clinical settings, was a major outlet for his enthusiasm for teaching, and in 1969 he volunteered to work with Children's Medical Relief International, an organisation providing plastic surgery for those injured in Vietnam. After his move back to Reading Tom made major contributions to the organisations of the specialty. Having been an assisitant editor for some years, he was appointed Editor of 'Anaesthesia', journal of the AAGBI in 1973, overseeing a major expansion and modernisation in the next nine years. He followed this by a term as President (1984-6). He was also a member of the Board of the Faculty of Anaesthetists and served as an examiner for the FFARCS. With his senior involvement in both organisations during crucial times he was closely involved in the discussions which led, eventually, to the establishment of an independent College for UK anaesthetists. However, it is arguable that his greatest contribution was the production, after he had retired, of a thoroughly researched history of the AAGBI.
Its mass of well researched and clearly laid out data make it a vital source document about anaesthesia and anaesthetists during a period of great expansion of the specialty, and it provided the material for his MD thesis. The history of the specialty had long been an interest, and it was through his work that the History of Anaesthesia Society was established in 1986; he was later its President (1989-91). Related to this was an interest in heraldry, and he helped produce the arms of both the AAGBI and the RCoA. His work brought invitations to give eponymous lectures, and he received many honours: President of RSM's Section of Anaesthetics (1983/4); Faculty Gold Medal (1989); AAGBI honorary membership (1990) & John Snow Silver Medal (1994); election as FDSRCSEng (1985); and an OBE for services to medicine (1991).
Other biographical information
Tom went up to Cambridge to study engineering, but three of his great-grandfathers were doctors and he transferred to medicine on his first day. He met his wife, Helen, in 1950 when a junior anaesthetist at Bart's; they married in 1952 and had two sons and a daughter. In retirement he enjoyed sailing a motor cruiser, Tom's Thumb, on the Thames.
Author and Sources
Author:
Prof Tony Wildsmith
Sources and any other comments:
Boulton TB. The Association of Anaesthetists of Great Britain and Ireland 1932-92 and The Development of the Specialty of Anaesthesia. London: AAGBI, 1999. Obituaries. BMJ 2016; 354: 405 | The Times, 02/07/2016 | The Telegraph, 13/07/2016 I would thank Mrs Helen Boulton and Ms Amanda Goode, Emmanuel College Archivist, for help with additional information. Mrs Boulton also provided the photograph.