Viscount Nuffield William Richard Morris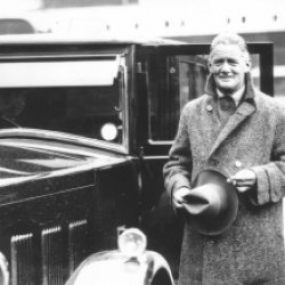 Viscount Nuffield William Richard Morris GBE CH FRS FRCS(Hon) FFARCS(Hon)
10/10/1877 to 22/08/1963
Place of birth: Worcester, England
Nationality: British
CRN: 715583
Education and qualifications
| | |
| --- | --- |
| General education | Village School, Cowley, Oxfordshire |
| Primary medical qualification(s) | None |
| Initial Fellowship and type | FFARCS (Honorary) |
| Year of Fellowship | 1951 |
| Other qualification(s) | |
Professional life and career
Postgraduate career
Morris had wanted to study medicine, but his father's illness meant that he had to leave school aged 15 and earn his living – in a bicycle shop. He soon had his own shop and progressed to making motorcylces and then, in 1913, the first reliable British car. His factory served the WW1 effort, but thereafter was hugely successful, very much the right man producing the right products at the right time. He had come under the influence of Sir William Osler, Regius Professor of Medicine at Oxford and began to make considerable donations to medical institutions. His career, as both industrialist and philanthropist, is well documented elsewhere (see Obituary in The Times, 22/08/1963).
Professional interests and activities
His importance to anaesthesia began in 1936 at Huntercombe Golf Club near Henley where, in the company of a group of doctors with connections to Guy's Hospital (which had already been the recipient of his generosity), he announced that he was going to fund a postgraduate medical school in Oxford with chairs in medicine, surgery and obstetrics & gynaecology. Robert Macintosh was in the group and, more to break the stunned silence than for any other reason, he noted the omission of anaesthetics. Nothing else was said at the time, but it was not long before Nuffield had added anaesthetics to the list, threatened to cancel the whole donation if Oxford University did not withdraw its objections, and insisted that Macintosh should be appointed to the chair. The University withdrew its objections, Macintosh was appointed, and so began academic anaesthesia in Britain! During WW2 Nuffield's industrial empire again supported the war effort, and he personally helped Macintosh with experiments to establish an effective life jacket for airmen. Post-war his factory built and supplied a 'tank' respiratory for evey hospital in the country to support the management of poliomyelitis.
Other biographical information
A frugal man, who lived simply (but was not above buying his own golf club!) golf seems to have been his main recreation although he won many cycle races in his youth. Married Elizabeth Maud Anstey, but there were no children. He received many awards from the Crown (OBE 1918, Baronet 1929, created Lord Nuffield 1934, advanced to Viscount 1938, advanced to GBE 1941, CH 1958) and professional organisations (FRS 1939, FRCSHon 1948 and FFARCSHon 1953).
Author and Sources
Author: Robert Palmer
Sources and any other comments: Sykes K. Sir Robert Reynolds Macintosh 1897-1989 in Zorab J (Ed) Careers in Anesthesiology Volume IX. London, AAGBI: 2005, 35-68 (ISBN 1-889595-14-4) | Beinhart J. A History of the Nuffield Department of Anaesthetics Oxford 1937-1987. Oxford: OUP, 1987. ISBN 0-19-261648-X | Photograph courtesy of the Nuffield Foundation