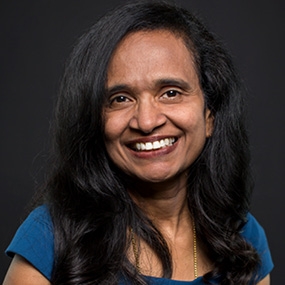 Dr Satya Francis
Elected Consultant Council Member
Qualifications
FRCA
Term of office on Council
2022 to 2028
Hospital
University Hospitals of Leicester
Biography
Dr Satya Francis qualified from Madras University in 1991. Following her anaesthetic training at Stanley Medical College in India and at Birmingham and Leicester Schools of Anaesthesia, she was appointed as a consultant at University Hospitals of Leicester in 2004.
She is an obstetric anaesthetist, and she also has a special interest in colorectal and perioperative medicine. She has been a College Tutor, a Foundation Training Programme Director, an Undergraduate Lead, and Simulation Lead for Foundation anaesthetists in training.
She is an Honorary Senior Lecturer, Clinical Academic Tutor and Academic Champion for anaesthesia at Leicester Medical School, and a Final FRCA examiner and lead for clinical SOE. She is committed to fostering an environment of inclusivity, respect and trust, and aims to promote the wellbeing and morale of anaesthetists in training and the anaesthetic workforce at large.
She enjoys reading, yoga and hiking, and is an amateurish cyclist.
Her initial passion was paediatrics, anaesthesia being a close second; she certainly has no regrets and has never looked back.
Register of Interests
Member of Obstetric Anaesthetists Association
Difficult Airway Society
Resuscitation council Instructor and Course organiser - MOET
Honorary Senior Lecturer at Leicester Medical School
Member of British Association of Physicians of Indian Origin