Dr Ainslie Sanderson Crawford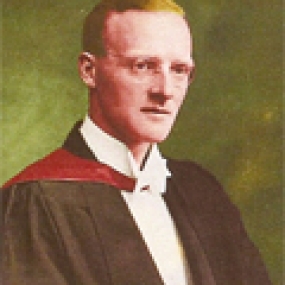 Dr Ainslie Sanderson Crawford MB ChB MD FFARCS DA
24/06/1914 to 31/07/2009
Place of birth: Edinburgh, Scotland
Nationality: Scottish
CRN: 497851
Education and qualifications
| | |
| --- | --- |
| General education | George Watson's Boys College, Edinburgh 1931. |
| Primary medical qualification(s) | MB ChB, Edinburgh Medical School and University 1931-36. |
| Initial Fellowship and type | FFARCS by Election |
| Year of Fellowship | 1953 |
| Other qualification(s) | Diploma Public Health. Ed. & Glasg. 1939, MD University of Edinburgh, 1948, DA (RCP&S), 1950 |
Professional life and career
Postgraduate career
Ainslie Sanderson Crawford was born in Leith, Edinburgh where his father was a chartered accountant. Following graduation in 1936, his medical career started with Infectious Diseases and changed to anaesthesia later, according to his self submitted college biographical form. He undertook the Diploma in Public Health Part 1 from October 1936 to March 1937 whilst doing part time clinical assistant work at the Edinburgh Royal Infirmary. After this he completed House Physician and Surgical Posts at Falkirk & District Royal Infirmary, followed in April 1938 by six months in a resident house physicians post at Edinburgh Royal Infirmary. From September 1938 he worked variously as a GP locum and assistant and a 3 month attachment as a ships surgeon, sailing to the Dutch East Indies with the Alfred Holt Blue Funnel Line. He then before embarked upon Part II of the DPH exam awarded by the Edinburgh and Glasgow Royal Colleges between April and October 1939. Following this he entered the military war medical service with the RAMC receiving his initial commission as a Lieutenant, on Christmas Day and assigned as a RMO to the Royal Gloucester Hussars. He undertook further military service in N. Europe, France and Holland with the 11th Armoured Division and RAMC Hygiene Sections in Europe, achieving the rank of Major. In February 1946, following the end of the war, he worked as an infectious diseases assistant medical officer at the Edinburgh City Hospital for six months, then moving to Rush Green Hospital, Romford, Essex, as a Senior Asst. Medical Officer in infectious diseases for two years. He obtained his MD in 1948, one assumes related to this specialty. Then in July 1950 he changed direction moving back to Scotland and Edinburgh Royal Infirmary as a registrar in anaesthesia. He completed his anaesthesia senior registrar training in the South East Scotland Regional Pool and Scheme in 1953.
His first consultant post was back in Romford, Essex, at the Harold Wood and Rush Green Hospitals from 1953 to 1960. Then he returned to his native Edinburgh as a consultant at the Royal Infirmary and the Roodlands Hospital; the latter had an association with infectious diseases. He remained at these hospitals until his retirement from clinical practice in 1979. Answering the question "why did you take up the specialty?" he has written "interest from student years rekindled whilst at Rush Green Hospital, an acute specialty".
Professional interests and activities
Alongside his clinical career Dr. Crawford was Junior President of the Royal Medical Society Edinburgh for the 1936-7 session. Whilst in Romford he served as Secretary to the Medical Staff Committee. Whilst back in Scotland he also served as the President of The Edinburgh and East of Scotland Society of Anaesthetists for 1969-70. In 1979 he was appointed as Honorary Senior Lecturer at the University of Edinburgh.
Other biographical information
Dr Crawford married Kathleen Buchanan in 1944 and they had two children. She predeceased him. He listed his outside interests and hobbies as golf, gardening and DIY. Limited information currently is available about his retirement. He was apparently an active member of the Scottish Genealogy Society, regularly volunteering every Wednesday with their library and archives – arriving by taxi when he could no longer travel by bus. He passed away in 2009 at Edinburgh.
Author and sources
Authors: Innes Simon Chadwick and Alistair McKenzie
Sources and comments:
Information obtained from Dr. Crawford's self submitted biographical college "Boulton Form" dated 1988.
The London Gazette Supplement, 23 Jan 1940, 34777 p456.
Medical Directory Scotland GMC 1942 accessed on line Ancestry.com.
Medical Directory England GMC 1959 accessed on line Ancestry.com.
Biographical information accessed on line Ancestry.com.
Scottish Genealogy Website, information accessed online.