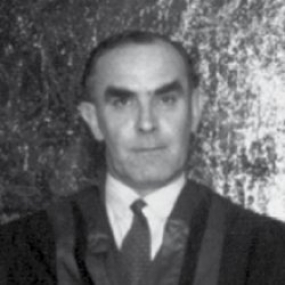 Dr Alec Hugh Musgrove FFARCS MRCS LRCP DA
01/12/1901 to 17/04/1966
Place of birth: Merthyr Tydfil
Nationality: British
CRN: 715224
Education and qualifications
| | |
| --- | --- |
| General education | Bishop Wordsworth's School, Salisbury; Pre-clinical, University College, Cardiff; Clinical, Guy's Hospital Medical School, London |
| Primary medical qualification(s) | MRCS LRCP, 1926 |
| Initial Fellowship and type | FFARCS by Election |
| Year of Fellowship | 1948 |
| Other qualification(s) | DA(RCP&S), 1937 |
Professional life and career
Postgraduate career
Dr A H Musgrove began his professional career in general practice, which he continued until 1941, but his interest in anaesthesia took up an increasing proportion of his time. He was appointed visiting anaesthetist to the Cardiff Royal Infirmary in 1935, this including a responsibility for teaching anaesthesia. In 1942 he was appointed a clinical teacher at the Welsh National School of Medicine. In 1948 he was appointed an honorary consulting anaesthetist to the Welsh Hospital Board and United Cardiff Hospitals, which included sessions at Sully Hospital. He retired in 1964.
Professional interests and activities
Dr Musgrove was the first anaesthetist in Cardiff to use intravenous barbiturates, controlled hypotension and hypothermia, and he was a pioneer of thoracic anaesthesia. He was a member of Council, AAGBI from 1945 to 1948 and in the latter year was elected a Fellow of the Association and nominated to the first board of Faculty. In 1949 he became the first President of the newly formed Society of Anaesthetists of South Wales.
Other biographical information
Dr Musgrove was a keen sportsman in his youth and played football and tennis for his hospital. In 1928 he married Olive Sylvia Raindle. Sadly he died suddenly in Majorca whilst on holiday.
Author and Sources
Author: E Anne Thornberry
Sources and any other comments: Obituary. Anaesthesia 1966; 21: 602 | Medical Register, 1951 | David Seymour, researching Bishop Wordsworth's School. Photo from Colege collection.