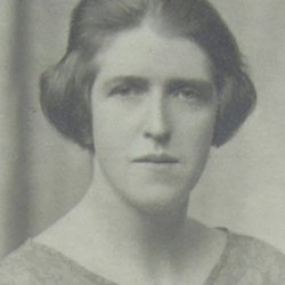 Dr Alison Ritchie
07/05/1901
Place of birth: Oxford
Nationality: British
CRN: 560409
Education and qualifications
| | |
| --- | --- |
| General education | St Leonard's Shool, Fife; Edinburgh University |
| Primary medical qualification(s) | MB ChB, Edinburgh, 1925 |
| Initial Fellowship and type | FFARCS by Election |
| Year of Fellowship | 1948 |
| Other qualification(s) | MD, Edinburgh, 1928; MRCPEd, 1933 |
Professional life and career
Postgraduate career
Early hospital posts as House Physician at the Royal Infirmary of Edinburgh (RIE), Edinburgh's Royal Hospital for Sick Children & Royal Maternity Hospital, and House Surgeon at Bristol Royal Infirmary. By 1934 held appointments as both Senior Clinical Assistant in the Antenatal Department of the Edinburgh Royal Maternity Hospital and Anaesthetist to the RIE. A member of the Edinburgh Obstetrical Society up until WW2, she seems to have continued to work in both specialties until then, but was a full-time anaesthetist by the end of the war, based on RIE, but working in several hospitals on the south side of Edinburgh. Later she was consultant anaesthetist to both Western General and Edinburgh Southern Hospitals before retiring sometime around 1966.
Professional interests and activities
Well qualified for an anaesthetist of the time she was a member of the Medical Women's Federation before WW2, with her publications bridging Anaesthesia and Obstetrics and her MD thesis being on Placenta Praevia. She was advanced FRCPEd in 1955 and served as President of the then Edinburgh Association of Anaesthetists (1954-5) and the Scottish Society of Anaesthetists (1959-60).
Other biographical information
Her father, James Ritchie (see BMJ 1923; 1: 263-6), was from Duns, Berwickshire and a pioneer of clinical pathology, developing the Oxford Department at the time of Alison's birth. He was later the first Professor of Bacteriology in Edinburgh. No other personal information has been found and, as far as can be ascertained, she never married.
Author and Sources
Author: Prof Tony Wildsmith
Sources and any other comments: A little information was obtained from McKenzie AG, 'The Centenary of the Scottish Society of Anaesthetists 1914-2014', published by the Society in 2014, and this was supplemented by material from the University of Edinburgh's records and her entries in the Medical Directories. The photograph is courtesy of Lothian Health Services Archive, Edinburgh University Library.