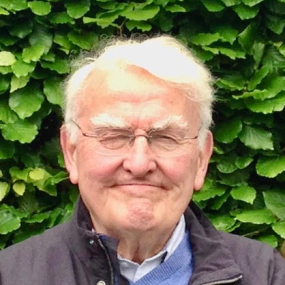 Dr Alun Owen Davies B Chir BA FFARCS DA
08/06/1936 to 04/02/2022
Place of birth: Newport, Monmouthshire
Nationality: British
CRN: 498395
Education and qualifications
General education

Hereford Cathedral School 1946 - 54
Trinity College, Cambridge 1954 - 57
Westminster Medical School 1957 - 60

Primary medical qualification(s)

BA (Cantab) 1957
B Chir 1960, MB 1961 (Cantab)
DA (Eng) 1964

Initial Fellowship and type

FFARCS by Examination

Year of Fellowship

1967

Other qualification(s)

N/A
Professional life and career
Postgraduate career
House Surgeon, Department of Orthopaedics, Westminster Hospital 1960
House Physician and Senior House Officer, Casualty Department, Royal Gwent Hospital, Newport 1961
Senior House Officer, Surgery, Royal Lancaster Infirmary 1962
Senior House Office, Anaesthetics, City General Hospital, Stoke-on-Trent 1962-1964
Senior House Officer and Locum Registrar, Anaesthetics, Portsmouth Group Hospitals - 1964
Registrar in Anaesthetics, City General Hospital, Stoke-on-Trent 1964-1966
Registrar in Anaesthetics, Welsh National School of Medicine 1966-1967
Senior Registrar in Anaesthetics, Welsh National School of Medicine 1967
Consultant in Anaesthetics, North Staffordshire Group of Hospitals 1969-1992.
Professional interests and activities
BMA, Hickman Society
Other biographical information
Alun Davies celebrated his Diamond Wedding Anniversary on 7th October 2021. He had met his future wife, Angela, when they were students together at Westminster Medical School. He was a devoted family man and proud of his two sons, their wives and his four granddaughters.
After early retirement due to stress related ill health he studied Local History and obtained an MA from the University of Keele. For a few years he taught Medical History in the new Medical School at Keele.
He researched and published 'The North Staffordshire Royal Infirmary' to coincide with the bicentenary of that hospital. His book detailed the efforts to fund hospital care and achieve high standards of medical care in a deprived industrial area, the Potteries.
He ran the popular Section of Medical History at the North Staffordshire Medical Institute. He was an active member of the North Staffordshire Historians.
He appreciated Victorian engineering especially steam engines and supported a number of conservation societies. He enjoyed opera and classical music. He was very widely read and enjoyed sharing his knowledge. He had a reputation as a raconteur.
In 2017 he and Angela moved from Staffordshire to Suffolk to be near family. He died from pulmonary fibrosis in the West Suffolk Hospital.
Author and sources
Author: Dr Angela R Davies FPH
Sources and comments: Photograph by kind permission of Dr Angela R Davies.