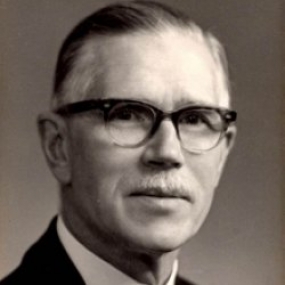 Dr Charles Ernest Sykes TD MBChB FFARCS DA
29/01/1899 to 23/02/1978
Place of birth: Bolsover, Derbyshire
Nationality: British
CRN: 715413
Also known as: Bill
Education and qualifications
| | |
| --- | --- |
| General education | Merton House, Penmaesmawr, then Leys School, Cambridge; Manchester University Medical School – president of the Students Union & captain of Rugby Football Club |
| Primary medical qualification(s) | MBChB, Manchester, 1927 |
| Initial Fellowship and type | FFARCS by Election |
| Year of Fellowship | 1948 |
| Other qualification(s) | DA(RCP&S), 1935 |
Professional life and career
Postgraduate career
After house appointments at Manchester Royal Infirmary he became anaesthetist at the city's Victoria Memorial Jewish Hospital, and within 12 months was also working at Park (Davyhulme) & Salford Royal Hospitals, as well as the Holt Radium Institute. Subsequent appointments included Manchester's Royal Eye & Withington Hospitals, and the Duchess of York Hospital, Salford. In 1939 he joined the RAMC, serving in England, France & Belgium, and ultimately becoming adviser in anaesthetics to Eastern Command in India and attaining the rank of lieutentant-colonel. After the war he returned to Manchester to work at the Royal Infirmary and the Royal Eye Hospital until retirement in 1961.
Professional interests and activities
He had a very academic approach to anaesthesia so was very much in demand as a teacher, and also contributed to the specialty's organisations: president of both anaesthetic section of Manchester Medical Society & Manchester Medico-Ethical Society; member of council of both AAGBI (1946-9) & RSM Section (1948-51).
Other biographical information
He married Eleanor Beatrice Schill (MBE DPM), a consultant psychiatrist, and they had five children. Always willing to help others, his interests outside medicine were wide. He represented Lancashire as well as his University at rugby, and had a trial for England, but ill-health cut short his playing career. He continued in the TA after WW2 (TD 1952), having also served in the Royal Artillery during WW1. His concern for the under-privileged led to long-term membership of both Manchester & Salford Playing Fields Association and Ardwick Lads & Mens Club (president of the latter).
Author and Sources
Author: Dr Robert Palmer and Prof Tony Wildsmith
Sources and any other comments: Obituary. BMJ 1978; 1: 1149 | Medical Directory | Ancestry.co.uk (family tree by James Gilpin, Sykes's wife's great nephew | Martin Sykes (son) | Photograph from family collection