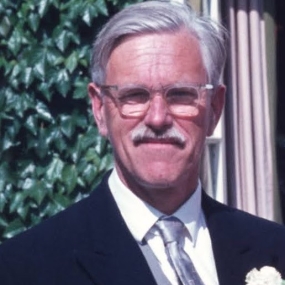 Dr David Dangerfield FFARCS MRCS LRCP DA
15/10/1915 to 12/11/2000
Place of birth: St. Albans, England
Nationality: British
CRN: 527161
Education and qualifications
| | |
| --- | --- |
| General education | Bedford School 1925-1932, (age 9-17yrs). He left school early to work in the family business before deciding on medicine. Apparently in October 1933 he then passed the "First Exam for Medical Degrees" at London University. |
| Primary medical qualification(s) | University College Hospital, London 1940; MRCS, LRCP |
| Initial Fellowship and type | FFARCS by Election |
| Year of Fellowship | 1953 |
| Other qualification(s) | DA |
Professional life and career
Postgraduate career
The Times newspaper, 5th November, recorded under the heading "182 New Licentiates: having passed the exam of the Royal College of Physicians and complied with its byelaws, had been granted their licences to practise medicine".
Between January to March 1941 he was mentioned several times in the local Cheltenham press, as a house surgeon at the General Hospital, appearing as a witness at various coroner's inquests. In August 1941 again he was reported in the West of England Press giving evidence at an inquest at the Minehead and West Somerset Hospital; again the report stated that he was a house surgeon at the hospital.
Upon graduating during the World War 2 years, he joined the RAFVE. According to his sons, it is unclear precisely what his role was during the war years, nor for what periods, but he was apparently based in St. Athan, Wales. Adding to this mystery are the circumstances in which he received physiotherapy in Swindon and met his future wife in about 1942 and subsequently both were married at Penarth in 1943. There is a family photograph of the parents holding their new baby son Peter in 1946 with David wearing his RAF uniform. There is an entry in the London Gazette which records him receiving his commission into the Medical Branch of the RAF in 1946.
Afterwards he moved to Stirling in 1948 and then on to the Dundee Royal Infirmary as a senior registrar, before being appointed consultant anaesthetist at (the original) Salford Royal Infirmary in 1951. There he was apparently involved in pioneering cardiac surgery according to the obituary in the BMJ (not clarified). Additionally after a problem with his chest, which he attributed to the damp and chronic pollution of Manchester, he returned to the anaesthetic department at Dundee as a consultant in 1960 for the fresher North Sea air of the Scottish coastline. He remained there until his retirement.
Professional interests and activities
David supervised medical students whilst at Dundee. His son Phillip recalls that one of his father's "students" became a consultant in Edinburgh and apparently his daughter subsequently trained as a lawyer and completed part of her legal training with son Phillip at his legal offices.
Other biographical information
Born into a family of staunch Plymouth Brethren, he rebelled by developing a passion for music. Being a talented amateur pianist he was always willing to accompany friends and visitors in the works of Beethoven and Mozart. His extensive library of scores was full of everything from Bach to Bartok and he had a massive collection of 78 rpm records. One of David's sons, Peter, recalls (when aged about 5 or 6 years) being taken to the Salford Royal Christmas show, where his father accompanied all the cast on a piano.
Regarding sporting interests, David's son, Phillip, has family photgraphs of his father, in a rugby team at Bedford School and a University College Hospital Hockey team.
Besides music his other great passions were photography and the outdoors. He climbed many of the Munros within reach of Tayside and took annual trips to the Dolomites in Italy where expeditions with his sons included hairraising scrambles along sheer cliff faces and up metal ladders. [sic via ferrata]. He became an expert in Romanesque architecture after many visits to the French and Spanish churches on the pilgrim's route to Santiago de Compostela. He enjoyed an active retirement and went out walking the hills most days, whatever the weather, until his chest, visual and prostate complaints curtailed his activities. He married Hilda Marion Gwynn (Betty), a physiotherapist, in 1943. She predeceased him in 1998. He was survived by three sons and grandchildren.
Author and sources
Author: Innes Simon Chadwick
Sources and comments:
1939 Register accessed on line via Ancestry.com
GMC Register 1955 accessed on line via Ancestry.com
GMC Register 1942 accessed on line via Ancestry.com
Obituaries, British Medical Journal 2000 Vol 321 p1535
The History of Anaesthesia Society Proceedings 2007 Vol 37 p35
Peter and Phillip Dangerfield provided family information with an exchange of personal communications including the historical newspaper information.