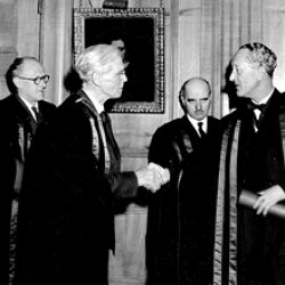 Dr Edward Falkner Hill MD FFARCS FFARCS(Hon) MRCS LRCP DPH
02/06/1877 to 24/08/1974
Place of birth: Wellington, Somerset
Nationality: British
CRN: 657914
Education and qualifications
| | |
| --- | --- |
| General education | Sidcot School, Somerset |
| Primary medical qualification(s) | MB ChB Victoria University of Manchester, 1900; also MRCS, LRCP 1900 |
| Initial Fellowship and type | FFARCS by Election |
| Year of Fellowship | 1948 |
| Other qualification(s) | DPH, 1920; MD, Manchester, 1934 |
Professional life and career
Postgraduate career
After junior hospital appointments, including house surgeon at Manchester Royal Infirmary, Hill went into general practice, but showed an aptitude for anaesthesia. In 1909 he was appointed junior assistant anaesthetist at MRI, remaining a member of staff there until retirement (delayed by WW2) at the age of 70, by which time he was senior anaesthetist and university lecturer.
Professional interests and activities
Hill's major interest, on which he published widely, was spinal anaesthesia, his MD thesis on the cause of the associated hypotension being awarded a gold medal. A founder member (1932) of the AAGBI, he served on its Council (1932-4) and was elected an Honorary Memebr in 1961. He was a long-standing (1930-73) member of the Board of the BJA, and was Joint Editor (with Prof TF Gray) from 1949 to 1962. He was the founding (1945) President of the Manchester and District Society of Anaesthetists, continuing in that role when it became the Section of Anaesthetics of the Manchester Medical Society in 1950.
Other biographical information
A Quaker, Hill studied at Owens College and lived in Dalton Hall, later being a member of its Board of Management. He was Fives champion of the University of Manchester for a number of years, turning to golf in later life, and was a skilled amateur photographer. He continued his laboratory research after retirement from clinical practice. In later life he also published an anthology of English poems and prose (By Every Word. Althrincham: St Anne's Press, 1970).
Author and sources
Author: Prof John Norman and Prof Tony Wildsmith
Sources and any other comments: Obituary: The Lancet, September 7, 1974. Additional material from http://archives.li.man.ac.uk/. The photograph above is from the College collection, and shows Dr Hill receiving his Honorary Fellowship from the Dean, Prof Geoffrey Organe, with Dr HJV Morton and Prof TC Gray in the background.