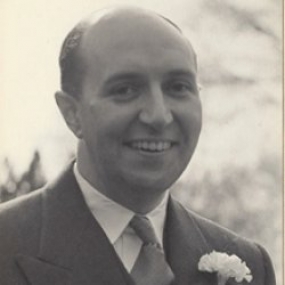 Dr Eric Samuel Machell
26/02/1920 to 14/08/2000
Place of birth: Sheffield
Nationality: British
CRN: 509004
Also known as: 'Uncle Eric'
Education and qualifications
| | |
| --- | --- |
| General education | Hunters Bar Primary and Nether Edge Grammar Schools, Sheffield; Sheffield University where he won many prizes including honours in his final examination. |
| Primary medical qualification(s) | MB ChB, Sheffield, 1944 |
| Initial Fellowship and type | FFARCS by Election |
| Year of Fellowship | 1953 |
| Other qualification(s) | BSc (Hons), Sheffield, 1943 |
Professional life and career
Postgraduate career
After graduation Eric worked as a demonstrator in anatomy in Sheffield for a year, and then as a house physician at Sheffield Royal Hospital for six months, his duties included administration of some anaesthetics. Called for military service in 1945, he joined the RAMC (working in Kenya, Egypt and Palestine), was mentioned in dispatches for meritorious service and continued his interest in anaesthetics, being graded trainee anaesthetist in January 1946, and specialist in May 1946. On his discharge in 1948 he became a clinical assistant in anaesthetics in the United Sheffield Hospitals, moving to London as anaesthetic registrar at Harefeld Hospital in April 1950, and then senior registrar at the London Chest Hospital in April 1951. He was appointed a Consultant Anaesthetist in Southampton in March 1952, remaining there until retirement in 1985.
Professional interests and activities
On arrival in Southampton he joined surgeon Paul Chin in establishing the Wessex Regional Cardio-thoracic Centre at Southampton Chest Hospital where he anaesthetised all thoracic and cardiac patients almost singlehandedly for the next few years, introducing surface hypothermia in 1956. In this work he collaborated with the physiology department in Southampton and, after experimental work at Porton, built a Melrose pump oxygenator, supervising perfusion for open heart surgery with Dr Douglas Pearce from 1959. Eric was also senior anaesthetist to the Southampton Eye Hospital and had sessions in Gynaecology & for emergency work. He contributed to formal courses for trainee anaesthetists, with his teaching and research within the university aiding the creation of the medical school at Southampton in 1968. He was known for his unflappability and sense of humour, these features leading to him being known as 'Uncle Eric'. A member of the British Society of the History of Medicine society, he presented several papers to it.
Other biographical information
After retirement Eric pursued his love of rose cultivation, music, photography, history and genealogy. He was also a 'Friend of old Southampton' and a keen member of the Lower Test Valley Archaeological Society. For several years he served on Ampfield Parish Council and was a steward of both the Abbey and St John's House in Romsey where colleagues appreciated his gentle and kindly humanity. After treatment for cancer of the bladder Eric helped other patients as a founder member of the Wessex Urological Support Group. He was survived by his wife, Myrtle, and son Adrian. All those with whom he had contact felt better for knowing him.
Author and Sources
Author: Robert Julian Palmer
Sources and any other comments: Pearce D. Obituary BMJ 2000; 321: 1024, funeral tribute also by Dr Douglas Pearce, and personal communication with his son Adrian Machell who kindly provided the photograph.