Dr Frederick Fox Cartwright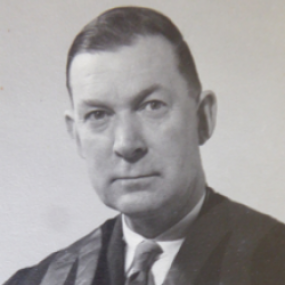 Dr Frederick Fox Cartwright FFARCS MRCS LRCP DA
18/05/1909 to 22/11/2001
Place of birth: Woolland, Dorset
Nationality: British
CRN: 525884
Also known as: Ferdie
Education and qualifications
| | |
| --- | --- |
| General education | School: Christ's Hospital; King's College Hospital Medical School |
| Primary medical qualification(s) | MRCS LRCP, 1934 |
| Initial Fellowship and type | FFARCS by Election |
| Year of Fellowship | 1948 |
| Other qualification(s) | DA(RCP&S), 1935 – the very first sitting |
Professional life and career
Postgraduate career
After qualifying he was house physician & surgeon at St Giles Hospital, Camberwell, and then senior house anaesthetist at King's before becoming junior honorary anaesthetist there (and also honorary anaesthetist at St John's Hospital, Lewisham) in 1937. He was honorary assistant anaesthetist at the National Dental Hospital from 1938 (full staff from 1939) and was appointed lecturer in dental anaesthesia at King's in 1941 (senior lecturer 1947-51). He became honorary anaesthetist at King's in 1945, and it remained his base hospital until retirement in 1974. Later dental sessions were at UCH dental school and he was appointed lecturer in the history of medicine at King's in 1963.
Professional interests and activities
Cartwright had a long-term involvement with anaesthesia for dentistry, and an interest in anaesthesia for ENT surgery, having worked with Sir Victor Negus, but is best known for his work on the history of medicine. His interest grew from his teaching activities, and eventually led to a course on the history of medicine and the establishment of a small department (of which he was head) at King's. He was one of a very small group of people who encouraged interest in the history of our specialty after WW2, notably through his first book, 'The English Pioneers of Anaesthesia' (1952), but his interests spread wider as is shown by the later survey, 'The Development of Modern Surgery (1967). He encouraged collaboration with professional historians, and his studies explored just about every aspect of medicine's history, this culminating in 'Disease and History' (1972), a work of great scholarship that explored the influence of disease on important events. It was eventually translated into ten languages, with a second edition (2000) produced a year before his death, and a third (further revised and updated by his co-author, Michael Biddiss) in 2014. His contributions led to awards from many organisations: The Listerian Society at King's: president (1959-60); RSM section on the history of medicine: president (1975-7), later honorary member; Faculty of the History and Philosophy of Medicine and Pharmacy: Sydenham medallist (1978), president (1981), later honorary fellow.
Other biographical information
He married Patience Hart Collins, and they had three daughters: Jean, Ruth & Ann. A knowledgable gardener, he was an enthusiastic writer of letters to the editor of 'The Times', his contributions spanning a total of 65 years!
Author and Sources
Author: Profs Tony Wildsmith & Michael Biddiss (son-in-law)
Sources and any other comments: Adams A. Frederick Fox Cartwright. Proc Roy Soc Med 2002; 30: 106-7 | Also biography at www.encyclopedia.com accessed on 30/03/2017 | Medical Directory