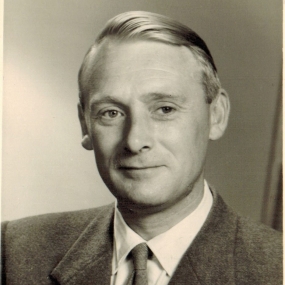 Dr Harry Walker LRCPEd LRCSEd LRFPSGlas FFARCS DA
01/08/1918 to 18/07/1959
Place of birth: Middlesbrough
Nationality: British
Known as: Harry
CRN: 723975
Education and qualifications
| | |
| --- | --- |
| General education | Middlesbrough High School; The School of Medicine of the Royal Colleges of Edinburgh |
| Primary medical qualification(s) | LRCPEd LRCSEd LRFPSGlas, 1942 |
| Initial Fellowship and type | FFARCS by Examination |
| Year of Fellowship | 1953 |
| Other qualification(s) | DA(RCP&S), 1948 |
Professional life and career
Postgraduate career
He undertook accelerated wartime posts as house physician, senior house surgeon, and casualty officer at the North Riding Infirmary (NRI), Middlesbrough. In 1943 he joined the RAMC, serving first at home and then in the Far East. After a specialist anaesthetic course in Bareilly, India, he was posted to the 5th Indian Mobile Surgical Unit providing surgical capability close to the front during XIVth Army's recapture of Burma. At the end of the war he worked in Surabaya, Java, dealing with military and civilian casualties of the insurgency. Demobilised in 1947, he undertook further anaesthetic training at the Royal Infirmary of Edinburgh (RIE), before returning to Middlesbrough as resident anaesthetist in the NRI in 1948 and a short period in GP. The following year he became full time consultant to the Tees-side group of hospitals, a post he held until his untimely death in 1959.
Professional interests and activities
Unusually for the time, his interest in anaesthetics started when he was a medical student and, as early as 1943, a testimonial described him as "an excellent anaesthetist". During both his medical training and army service he took photographs (held by the author) depicting anaesthetic practice of the time in the RIE and Burma. His early death cut short his career, but he had already become honorary secretary to the Medical Committee of the hospitals where he worked.
Other biographical information
His father and twin brothers were dentists in Middlesbrough. His wife, Margaret Wallace, a student nurse in the RIE when they met, later served in the RN nursing service in Ceylon. They married in 1946 and had three daughters, one medically qualified. He was a keen sailor, building his own Enterprise dinghy and instructing others on the River Clyde. Also fond of the North Yorkshire countryside, he kept a cottage in Rosedale.
Author and sources
Author:
Dr Katherine Venables (daughter)
Sources and comments:
[1] Personal knowledge [2] Obituary. BMJ 1959; ii: 437-8 [3] Ancestry.com [4] http://ww2talk.com/index.php?threads/burma-ww2-dr-harry-walker-ramc.741… [5] Archives of The School of Medicine of the Royal Colleges of Edinburgh, held at the Library of the Royal College of Surgeons of Edinburgh