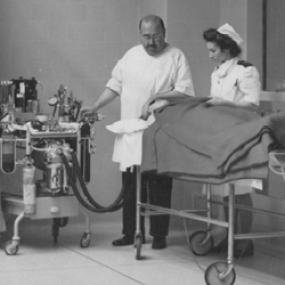 Dr John Truscott Hunter FFARCS MRCS LRCP DA
07/1898 to 09/08/1953
Place of birth: Edmonton, Middlesex
Nationality: British
CRN: 715369
Education and qualifications
| | |
| --- | --- |
| General education | School unknown; St Bartholomew's Hospital Medical School |
| Primary medical qualification(s) | MRCS LRCP, 1925 |
| Initial Fellowship and type | FFARCS by Election |
| Year of Fellowship | 1948 |
| Other qualification(s) | DA(RCP&S), 1944 |
Professional life and career
Postgraduate career
After qualifying was casualty officer at the Metropolitan Hospital, RMO at St Andrew's Hosp, Dollis Hill & senior resident anaesthetist at Bart's before settling into general practice in London. However, within a few years he had decided to specialise and by 1934 was honorary assistant anaesthetist at the Royal Dental and the Queen's Hospital for Children, Hackney, and anaesthetist at the Brompton Chest, Prince of Wales, King George Vth & Metropolitan Hospitals. When exactly he commenced work with the plastic surgery unit at East Grinstead is unclear, but he first visited (with McIndoe) to set up the unit in September 1939, and it became his main hospital. He was senior anaesthetist from 1950 until his death in 1953.
Professional interests and activities
By 1940 had published on anaesthesia for thoracic & abdominal surgery, and on the management of diabetics, obviously a very personal interest. He was an integral part of Sir Archibald MacIndoe's pioneering plastic surgery team working on burns victims during and after WW2. The second verse of the 'anthem' of the Guinea Pig Club (the patients of the unit) starts "John Hunter runs the gasworks", their floral tribute at his funeral was addressed to "Uncle John", and the East Grinstead Museum has many references to him. He was a fine clinician who had particular skill with children.
Other biographical information
He served as a gunner towards the end of WW1, before he started his medical studies. He married Edith Anne Lucy Paxman in 1929, but they had no children. A burly figure with a cheery greeting, he was well known as an after dinner speaker.
Author and sources
Author: Prof Tony Wildsmith
Sources and any other comments: Obituaries – Anaesthesia 1953; 8: 292 & The Lancet 1953; 2: 350 | Medical Directory | Ancestry.co.uk | en.wikipedia.org/wiki/Guinea_Pig_Club accessed on 04/08/2017 | eastgrinsteadmuseum.org.uk accessed on 04/08/2017 I also thank Sarah Goldsmith (niece), Hilary Whitaker (the family historian), and Bob Marchant (Secretary of the Guinea Pig Club & Trustee of the East Grinstead Museum) for additional information, the latter also kindly supplying the photograph