Dr Samuel Harold Swan Love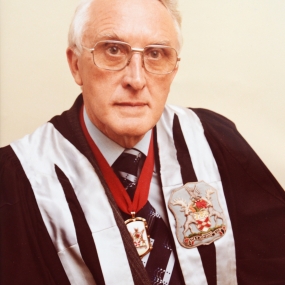 Dr Samuel Harold Swan Love MB BCh BAO MD FFARCS FFARCSI DA
30/07/1920 to 19/12/2010
Place of birth: Belfast, Northern Ireland
Nationality: British
Known as: Harold
CRN: 508632
Education and qualifications
General education

Bangor Grammar School, Queen's University Belfast

Primary medical qualification(s)

MB BCh BAO, Queen's University Belfast (1945)

Initial Fellowship and type

FFARCS by Election

Year of Fellowship

1953

Other qualification(s)

DA, RCP & SI, 1949 (By examination).
DA, RCP & S Eng, 1950 (By examination).
MD, Queen's University Belfast, 1952 (By thesis: 'A study of the role of the common muscle relaxants in the production of excess bleeding during anaesthesia and surgical operation').
FFARCSI,1960 (Foundation Fellow).
Professional life and career
Postgraduate career
After time spent at the Royal Victoria Hospital, Belfast (RVH) in house officer posts, Harold Love moved to England where he worked initially as Resident Anaesthetist and later as Anaesthetic Registrar at Darlington Memorial Hospital in Co. Durham. Having previously served as Senior Registrar in Anaesthetics, he was appointed in 1954 as Consultant Anaesthetist to RVH and the Royal Belfast Hospital for Sick Children (RBHSC, where he later concentrated his work). He retired in 1984.
Professional interests and activities
Harold was a skilled clinician with a special interest in paediatric cardiac anaesthesia and intensive care and also a dedicated teacher, who gave over thirty years of loyal and devoted service to RBHSC. A popular father figure in the latter part of his career, he commanded great respect among his professional colleagues, both at home and abroad, and his warm personality was reflected in his close relationships with them. He was a regular contributor to the anaesthetic literature; his published papers included a number on various aspects of anaesthetic pharmacology and both intermittent positive pressure ventilation and dental anaesthesia in children. A founder member of the Association of Paediatric Anaesthetists of Great Britain and Ireland (APAGBI) in 1973, he served as the third President (and the first based outside England) from 1979 to 1982. In recognition of his contributions to paediatric anaesthesia and to APAGBI itself, he was awarded honorary life membership in 1988. He was also a founder member of the European Academy of Anaesthesiology.
He was a member of the Board of the Faculty of Anaesthetists, Royal College of Surgeons in Ireland (RCSI) from its first meeting on December 12th 1959. In the following years, during much of which the apparently simple 'task' of travelling 100 miles from Belfast to Dublin was inherently dangerous because of the ongoing 'Troubles' in Northern Ireland, he served on a number of Board subcommittees and had, in particular, a major input into Faculty examinations acting as Chairman of the Education and Examinations Committee for a number of years. He became Vice-Dean in 1974 and two years later was elected unopposed as Dean, serving from 1976 - 79. In the words of Dr John R. McCarthy, his immediate successor in that position, he not only worked hard on behalf of the Faculty, but also graced the office with dignity, and had the wisdom to 'save us from our own folly' – this latter comment made in reference to a potentially damaging decision initially taken by the Board but subsequently reversed following mature reflection on the part of the Dean (Harold) and an emergency meeting convened by him.
Other biographical information
Harold Love's flair for administration was widely recognised and having retired from clinical practice, he was appointed part-time Medical Administrator of the Royal Group of Hospitals in Belfast (1984 - 87). He became Honorary Archivist to RBHSC in 1991 and subsequently wrote an excellent book on the history of the hospital. In retirement, he was also able to spend more time pursuing his love of golf on the world-famous links of Royal County Down Golf Club. An accomplished after-dinner speaker and raconteur with a keen sense of humour, Harold also had a deep Christian faith and remained active in his church throughout his life. Pre-deceased by his wife Nora, he died on December 19th 2010 and was survived by a daughter and two sons (one a Consultant Radiologist), nine grandchildren and five great-grandchildren.
Author and sources
Author: Dr Declan Warde
Sources and comments:
Medical Directory.
Minute Books of the Faculty of Anaesthetists, Royal College of Surgeons in Ireland.
Black G. Samuel Harold Swann Love. Association of Paediatric Anaesthetists of Great Britain and Ireland Newletter, Summer 2011. Available at www.apagbi.org.uk/about-us/council/newsletter (last accessed 24 January 2022).
Warde D, Tracey J, Cahill J. Harold Samuel Swan Love (1920 – 2010) in Safety as we Watch: Anaesthesia in Ireland (1847 – 1998). Dublin: Wordwell, 2022 (in press).
Photo reproduced by kind permission of the College of Anaesthesiologists of Ireland.