Dr Thomas James Gilmartin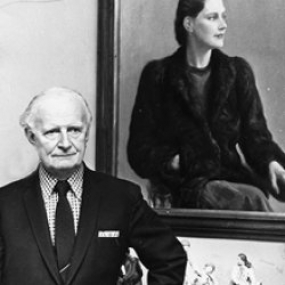 Dr Thomas James Gilmartin
29/06/1905 to 22/06/1986
Place of birth: Ballymote, County Sligo, Ireland
Nationality: Irish
Professor from 1965
CRN: 715492
Also known as: Tommy
Education and qualifications
| | |
| --- | --- |
| General education | Summerhill College, Sligo and subsequently Belvedere College, Dublin; Medical School, Royal College of Surgeons in Ireland |
| Primary medical qualification(s) | LRCP&SI, 1929. |
| Initial Fellowship and type | FFARCS by Election |
| Year of Fellowship | 1949 |
| Other qualification(s) | |
Professional life and career
Postgraduate career
Thomas James Gilmartin trained in anaesthetics in Birkenhead, Liverpool and St Mary's Hospital, Paddington before returning to Dublin where he was appointed assistant anaesthetist in Mercers Hospital in 1932, becoming a consultant in 1946. He is credited with introducing thiopentone in to practice in Ireland in 1934, and curare in 1945. He was appointed Associate Professor of Anaesthesia at the Royal College of Surgeons in Ireland in 1965, the first professor of anaesthetics in Ireland.
Professional interests and activities
He was involved in nearly every aspect of the development of professional anaesthetic practice in Ireland from the 1940's through to the 60's: 1942 - the setting up the first conjoint diploma (a DA) of the Royal Colleges of Physicians and Surgeons in Ireland; 1945 - granted permission to form the Anaesthetic section of the Royal Academy of Medicine in Ireland; 1950 - chairman of the Irish Medical Association committee that produced the seminal "Report on the Anaesthetic Services in Ireland"; 1959 - founding member, council member and first Dean of the Faculty of Anaesthetists, Royal College of Surgeons in Ireland. He was also a founding member, Council Member (1958), Vice-president (1973-5) & honorary member (1976) of the AAGBI, receiving its John Snow medal in 1985. He was elected DA(RCP&SI) in 1943, FFARCSI in 1960, and FRCSI(Hon) (a singular honour) in 1974. The Gilmartin Lecture at the Faculty (now College) of Anaesthetists in Ireland was inaugurated in his honour in 1985.
Other biographical information
Tommy Gilmartin was married to Peggy (nee Motherwell), and they lived in a Georgian house in Dublin that they restored themselves. They were keen art collectors, and had one son, John. Tommy was an accomplished golfer, an honorary member of Portmadoc GC, and also a member of the Royal Irish Yacht Club.
Author and sources
Author: Dr Joseph A Tracey
Sources and any other comments: [1] The Dictionary of Irish Biography 2009; 4: 98-99 [2] Millin T. Citation on behalf of Thomas James Gilmartin. Anaesthesia 1974; 31: 647-8 [3] Lectures by Drs Des Riordan and David Wilkinson. Further information was provided by John Gilmartin (son) who kindly provided the photograph which shows his father in front of a picture of his mother.