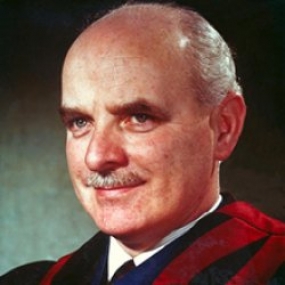 Prof Thomas Cecil Gray CBE MBChB(Hons) MD FFARCS FRCS FFARCSI(Hon) FRCP(Hon) FANZCA(Hon) DA
11/03/1913 to 05/01/2008
Place of birth: Liverpool, England
Nationality: British
CRN: 502430
Also known as: Cecil
Professor, from 1959
Education and qualifications
| | |
| --- | --- |
| General education | Ampleforth College; Liverpool University, achieving a distinction in anatomy |
| Primary medical qualification(s) | MBChB Hons, Liverpool, 1937 |
| Initial Fellowship and type | FFARCS by Election |
| Year of Fellowship | 1948 |
| Other qualification(s) | DA(RCP&S, 1941; MD, Liverpool, 1947 |
Professional life and career
Postgraduate career
After schooling at a Catholic College, Gray spent a short period as a Benedictine novitiate before returning to Liverpool in 1931 to study medicine. Graduating in 1937, he entered general practice and soon bought a practice in Wallasey on the Wirral. He quickly became fascinated by anaesthesia which at that time was practiced predominately by General Practitioners on a part-time basis. Under the tutelage of Robert Minnitt at the Royal Northern Hospital he rapidly collected the 500 cases then required to sit the DA examination which he passed in 1941. In 1942 he was accepted for military service and was posted to North Africa, but became critically ill with pneumonia and returned to Liverpool in 1944, soon becoming a full-time anaesthetist covering several hospitals. In 1947 Cecil was appointed full-time Reader in Anaesthesia in the University of Liverpool, and was given a Personal Chair in 1959, a post he held until retirement in 1976.
Professional interests and activities
Cecil Gray developed an early interest in neuro-muscular blocking drugs and, with John Halton, a consultant colleague, conducted research on their use with light general anaesthesia, publishing a seminal paper [A milestone in anaesthesia? (d-tubocurarine)] in the Proceedings of the Royal Society of Medicine in 1946. Subsequently he pursued extensive studies of the effects of these drugs on the circulation and also showed that they are very safe if employed with intermittent positive pressure ventilation. Large doses could be used to provide excellent operating conditions, unconsciousness being ensured with nitrous oxide and freedom from the autonomic effects of surgical stimulation by intravenous analgesics. This combination enabled safe anaesthesia to be provided for long periods and was a major factor in the development of modern surgery. Gray undoubtedly merits recognition as one of the great British pioneers of modern anaesthesia. In addition to his research he built a successful Department of Anaesthesia, persuading both University and NHS colleagues to allow junior trainees to attend lectures in in the University Department until 11am on weekdays. This, the precursor of day release courses for junior hospital doctors, was a major advance in postgraduate medical education and, not surprisingly, he was the first (1966-70) Postgraduate Dean in Liverpool, and then went on to be Dean of the Faculty (1970-6). Gray published widely, and served as Editor, jointly with E Faulkner Hill, of the British Journal of Anaesthesia (1948-64) and by their efforts it gained an international reputation. He was also Editor of several editions of 'General Anaesthesia', which for many was the leading source of reference on the subject. All of this gained him an international reputation: he lectured in many countries world-wide and attracted many students , particularly from the Far East & Australia. His profound interest in medical education and his organisational ability was recognised by his nomination to the Foundation Board of the Faculty of Anaesthetists in 1948, and election as its Dean in 1964. He also served as President of the Section of Anaesthesis of the RSM (1955-6), the AAGBI (1956-9), the Liverpool Society of Anaesthetists (1962-4) & the Liverpool Medical Institution (1974-5). In addition, he was the first anaesthetist to receive a Sims Commonwealth travelling (to Australia) professorship (a joint RCP, RCSEng & RCOG award) and held several offices in the Medical Defence Union including Honorary Treasurer and Vice-President.
Other biographical information
Cecil was a man of wide interests: an excellent pianist; actor in, & producer of, amateur dramatics; keen mountain walker; a sailor, frequently chartering boats on the Norfolk Broads and once, with several other Liverpool anaesthetists, chartering a trawler to sail to the Netherlands; a season ticket holder at Everton FC for many years; and, in retirement, writing a biography of Richard Formby, the founder if the Liverpool Medical School. He also served as a Magistrate on the Liverpool Bench (1966-83), was made a Freeman of the City of London in 1983, and in 1984 was elected Knight Commander of the Order of St Gregory for his loyalty & contributions to the Catholic Church. In 1937 Cecil married Marjory Healy, and they had two children, David (also an anaesthetist in Liverpool) & Beverley. Marjory died in 1978 and the next year Cecil married Pamela Corning with whom he had a son, James.
Author and sources
Author: Drs AA (Tony) Gilbertson & Raymond Ahearn, students, admirers and colleagues. We acknowledge, with thanks, the help of Dr Anne Florence and Prof Ronald Jones.
Sources and any other comments: More complete accounts of Gray's life are available at: [1] Florence AM. A tribute to Professor Thomas Cecil Gray, March 11th 1913 – January 5th 2008. Procceedings of the History of Anaesthesia Society 2008; 39: 9-14 [2] Martin Leuwer, Raymond Ahearn, Tony Gilbertson. Obituary: Professor T Cecil Gray. The Independent, 26th January, 2008 [3] Balance J. Professor Thomas Cecil Gray CBE KCSG FRCP FRCS FRCA. Anaesthesia 2008; 63: 564-5